Food-Themed Nail Ideas for the Perfect Manicure
Aug 10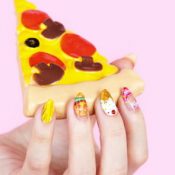 If you're looking for a unique and fun way to show your love of food, consider giving one of these food-themed nail ideas a try! Whether you're into French cuisine or prefer to stick with classic American fare, a design will reflect your culinary preferences. So get creative and show off your love of food with a stylish manicure!
Food-themed nail designs to try
Nails are a great canvas for creative expression, and what could be more perfect for a themed manicure than food? Whether you're inspired by your favorite dishes or want to show off your love of all things edible, these nail ideas will have your hands looking pretty and tasty. So get ready to feast your eyes on some amazing nails!
For a fun take on French fries, try painting alternating stripes of yellow and orange on each nail. You can use either real french fries as inspiration or create the look with polish.
A pizza manicure is easy to do and looks adorable. Just paint each nail different colors of pepperoni and cheese, or go for a more abstract look with toppings in every color of the rainbow.
Ice cream nails are always a good idea! You can either go for a classic look with one scoop of each flavor on each nail or get creative with swirls, sprinkles, and other toppings.
Don't forget about cake when thinking about food-inspired nails! A simple design of colorful layers is perfect for any occasion, or you can get creative with different flavors and toppings.
Try painting your nails like sushi rolls for something a little more savory. Just alternate between pink (for the rice), green (for the wasabi), and white (for the fish).
This one's not for the faint of heart: mouth nails. Paint your teeth on one nail, your tongue on another, and so on. But, it's definitely a conversation starter!
If you want something a little more subtle, try painting each nail with a different food-related word or phrase. "Bon appetit," "yum," and "I'm starving" are all great options.
Another way to go about subtlety is to paint your nails with a gradient of colors, like the classic rainbow. This can be done with any colors you like, not just those associated with food.
And finally, try combining two different themes into one manicure for a truly unique look. For example, you could do half pizza nails and half ice cream nails or mix and match your favorite dishes. The sky's the limit!

Nails that are inspired by the foods
Start with a clean slate. Be sure to wash your hands and nails thoroughly before starting your manicure. This will help ensure that your polish goes on evenly and lasts longer.
Choose your colors. For a food-themed manicure, think about what colors are associated with different types of foods. For example, red might represent tomatoes or strawberries, while green could be used for cucumbers or celery. You can also use white or black as an accent color.
Paint your nails. Once you have decided on your colors, it's time to start painting! Begin with a base coat of polish, then add two coats of the color of your choice. Finish off with a top coat to seal in color and help your manicure last longer.
Decorate your nails. Now it's time to have some fun! Use a toothpick or other fine-pointed tool to add details to your nails. For example, you could paint dots, stripes, or even create miniature pictures of foods. Be creative and have fun with it!
Let your nails dry. Once you're happy with your design, it's important to let your nails dry completely before doing anything else. This process can take up to an hour, so be patient!
Enjoy your fabulous food-themed nails!